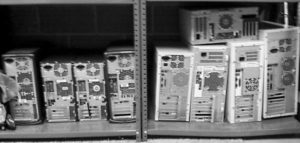 The third component of "Fries Keyboard Works" is the technology component. Please click on the links below to see how I can help you: (This page is a work in progress!)
Home Computer Repair (Laptop/Desktop)
Home Wired and Wireless Networking/Security
New, Custom-Built Computers
Forms of Payment Accepted:
Individuals are expected to pay upon completion and satisfaction of service. Institutions may pay the day of, but by default will receive an invoice either on-site, or via mail/e-mail.
The following forms of payment are accepted:
Cash (Preferred)
Check
Bitcoin (For services rendered ONLY. Materials/parts must still be paid in USD at this time.)
Credit/Debit Card are NOT accepted at this time.

Paypal is accepted, however a $15 processing fee is added to each transaction.
To schedule an appointment, please use the contact page to send a message!