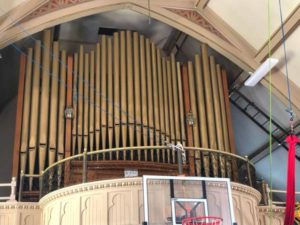 The Center portion of the facade for this instrument comes from the old St. Jerome Catholic Church in Oconomowoc, WI. The facade is from their former W.W. Kimball pipe organ, circa 1910. When St. Jerome's Parish built a new church, they took the pipes from this organ and incorporated it into their new organ. They left behind the facade, chests, and other mechanics. We purchased this from the current owners of the old church.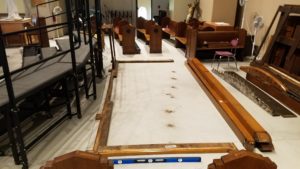 As of July 2020, the wooden portion of the facade is cleaned and reassembled, but the pipes remain in waiting. All the pipes need to be stripped of several layers of brittle paint, repaired where necessary, and repainted to match the interior of St. Raphael. Our plan is to use a similar color scheme to that which already exists in the church, complete with Victorian stenciling if time permits. This may seem simple, but it is an incredible amount of work. This work will have to be accomplished during several volunteer work days. The more volunteers, the quicker it gets done! I would like to have these pipes completed and installed before Christmas 2020.
A little more info
12 of these pipes (one octave) are functioning, real organ pipes. At this point, it is unlikely that I will "hook them up", as we do not have the rest of this set of pipes. However, they will be in operating condition when reinstalled. The rest of the pipes you see are actually dummy pipes – they are just for show! They lack the required components and construction to work as actual organ pipes which produce pitch. This is very common with facade pipes of organs. You would never know by looking at them from afar!
These pipes, along with other large pipes, are made mostly of zinc. You can see from these pictures the different layers of paint from over the past century. The original stenciling is still visible before the stripping was completed on this pipe.