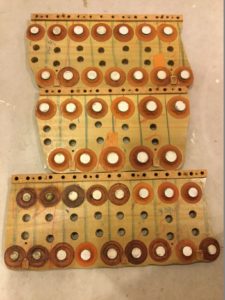 F.K.W. provides pipe organ tuning and regular maintenance services in the Chicagoland and surrounding counties in Illinois.
Acoustic instruments like Pipe organs are a dying breed. As many churches close or downsize, many of these instruments simply end up in the dumpster. Let me work with you or your organization to preserve your instrument at the least expense. Many places get rid of their instruments because they believe it will take tens, if not hundreds of thousands to get them working again. Many times this is not the case.
As the sole individual of F.K.W., I can provide my services very affordably, as my overhead is minimal. I hire additional help only as absolutely needed. This does, however, mean that large projects will take much longer than they would with a large company.
Thank you all for your patience, I am back to good health! Regularly scheduled organ services will resume in March 2022. Contact me to schedule your Spring/Easter tuning!
Prices are very straight forward and affordable (Note price revision due to 2022 inflation!):

Tuning: $300/per day

If the client cannot provide a key holder, and there is no option for digital control of the organ, I will have to charge an additional $150/per day for a key holder.

Regulation, Repairs, and cleaning: $40/hr plus cost of parts if applicable.
Travel fee: $1/mile round trip on clients farther than 15 minutes drive from Wood Dale.

Mileage will be split between multiple clients located near each other on the same day.

Inspections/diagnostic visits are free for new and current clients. If the services can be provided on the same day, the appropriate charges will be applicable.
Organ work is often time consuming, and restoration projects can quickly become expensive. I am happy to provide my best estimate on work needed. I am most happy to work within your set budget. This helps to give focus and prioritize what is needed most.
Forms of Payment Accepted:
Individuals are expected to pay upon completion and satisfaction of service. Institutions may pay the day of, but by default will receive an invoice either on-site, or via mail/e-mail.
As of January 1, 2021, the following forms of payment are accepted:
Cash (Preferred)
Check
Bitcoin (For services rendered ONLY. Materials/parts must still be paid in USD at this time.)
Credit/Debit Card are generally NOT accepted at this time.

Paypal is accepted, however a $15 processing fee is added to each order.
To schedule an appointment, please use the contact page to send a message!